Delighting in the
unexpected
Whistling Sisters
Whistling Sisters Beer Co. is a craft beer brewery, with a 'Fermentery' restaurant located on Ghuznee St, Wellington.

Their tinkering goes beyond the glass, delighting punters with gustatory experiences that combine beer, food and unexpected flavours.

Life is too short to eat or drink anything mediocre.
The challenge
Success in craft beer means gaining market share in an over-saturated category. At the time, craft beer consumption had been steadily rising, 40% year on year, and the number of new breweries nationwide was too: NZ had 111 brewers (a number that had doubled in just one year)! Especially in Wellington, NZ's 'Craft Beer Capital,' a new brewery needed to earn loyal customers and reach a profitable sales volume, all the while building a memorable brand experience.
Our clients, the Scott family, were up to the task with over 40 years of hospitality experience. The team behind Ombra, Avida, Flanagans and the Backbencher, they were ready but still new to the brewing industry. They needed to win over a tough crowd: sophisticated, young(ish), professional, well-travelled, discerning, explorer-type Wellingtonians, who love a good drop.
The brewery also had an important backstory. The Scotts started it as a way to help fund the Karen Louisa Foundation, which supports research into secondary (advanced) breast cancer. The Foundation honours the legacy of Karen, the family's beautiful daughter and sister whom they lost to breast cancer in 2015.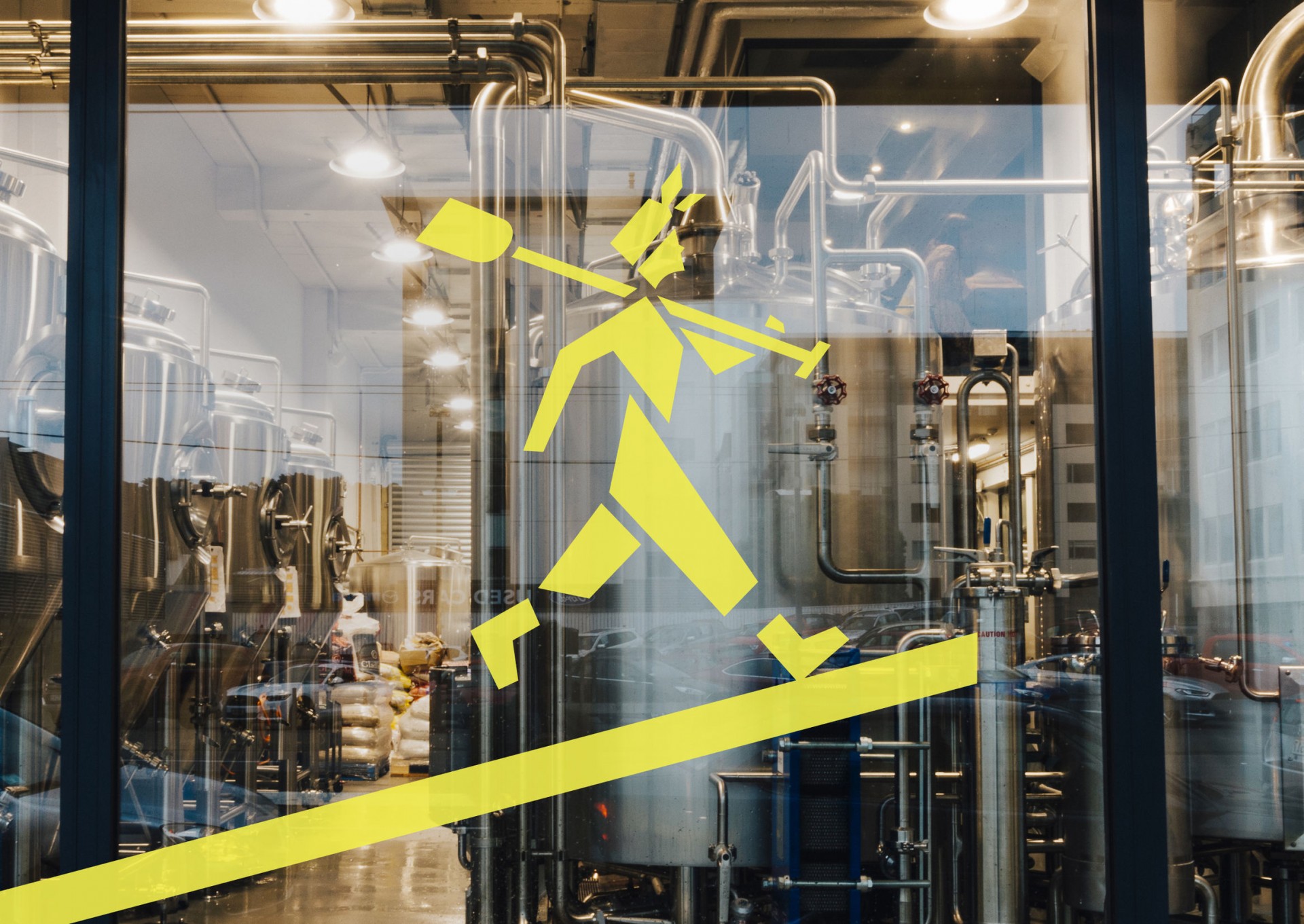 When you're chewing life's gristle, don't grumble, give a whistle, and this'll help things turn out for the best.
The approach
We worked with our clients from the outset, from workshopping, to market research and audience interviews, helping this new business carve out a strong strategic positioning.
The team planned to brew and make everything onsite: beer, coffee roasting, smoking charcuterie, and pickling and fermenting entrees to create a rich, artisan almost deli-like atmosphere that pushed the boundaries of a 'brewpub.' Located in an old Salvation Army building, the inside of their brewery-restaurant would maintain its industrial feel, exposed ceilings, and large windows to showcase the brewing vats.
The brand ethos became 'delighting customers with unexpected experiences,' paired with a brand personality that was warm, cultural, refined, playful with a very Wellington feel. And from this grounding, we struck the perfect name: 'Whistling Sisters,' a sassy, industrious beer brand, all about crafting, and celebrating strong women. The Sisters are all about getting stuck in, experimenting without fear, and delighting in the ups and downs. "When you're chewing on life's gristle… Don't grumble, give a whistle!"
We developed a brand identity around this attitude: experiencing the brand feels like a beer department at Willy Wonka's factory, if Tom Ford designed it and the hardworking women of World War II were in charge. The strong black line in the design language gives a busy, energetic feel, while also serving as a visual thread across the collateral. The imagery is a bit surreal. We juxtaposed old imagery with new graphics, to create a suite of lively, colourful and animated collages that give Whistling Sisters a classy, yet surprising and contemporary feel.
We engaged in every detail of the brand rollout, from the Fermentery launch, to local festivals, brand collateral, a website build, and naming and designing new beer identities, like Prima Dana and Amber Dextrous, adding countless personalities to the Whistling Sisters family.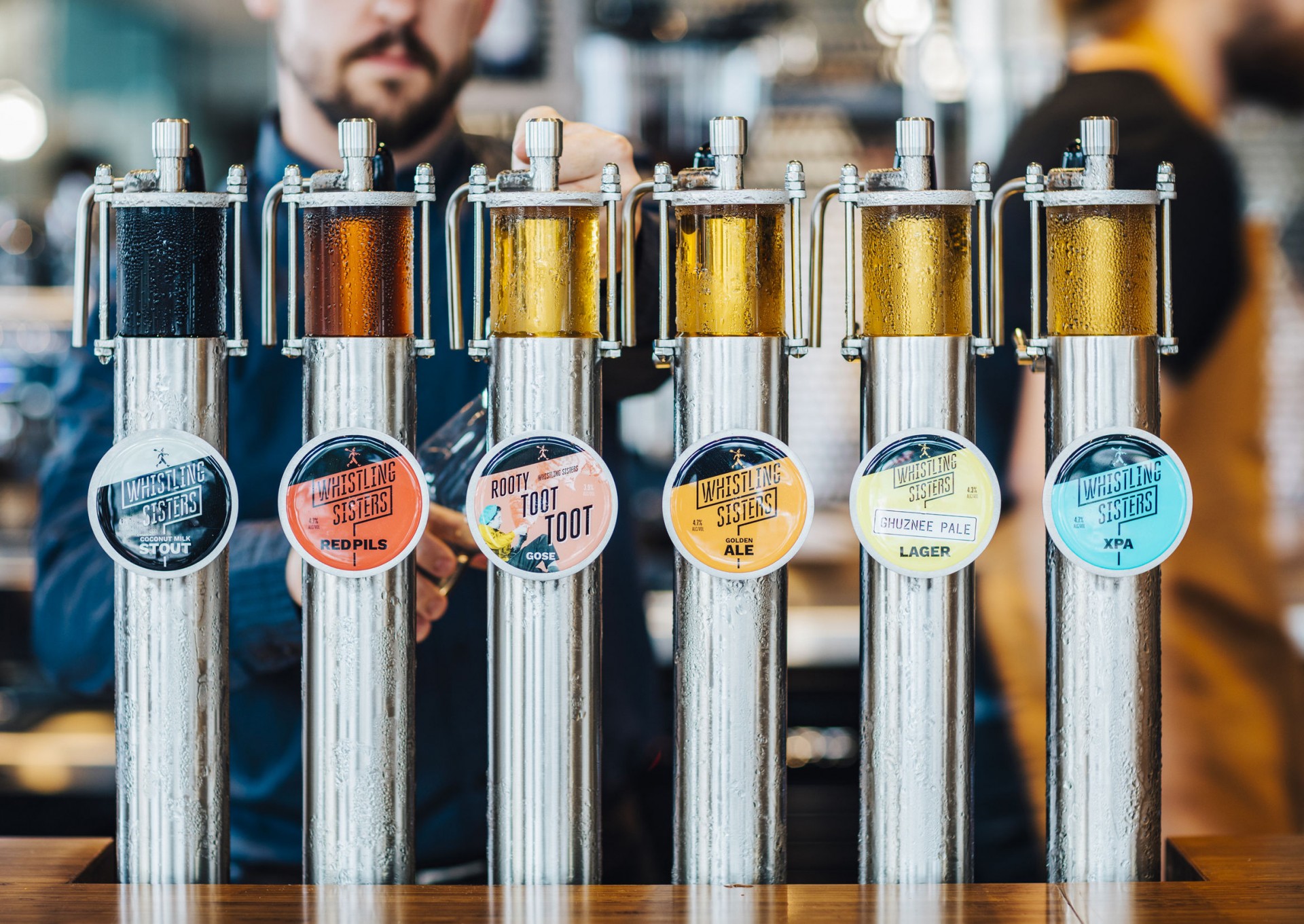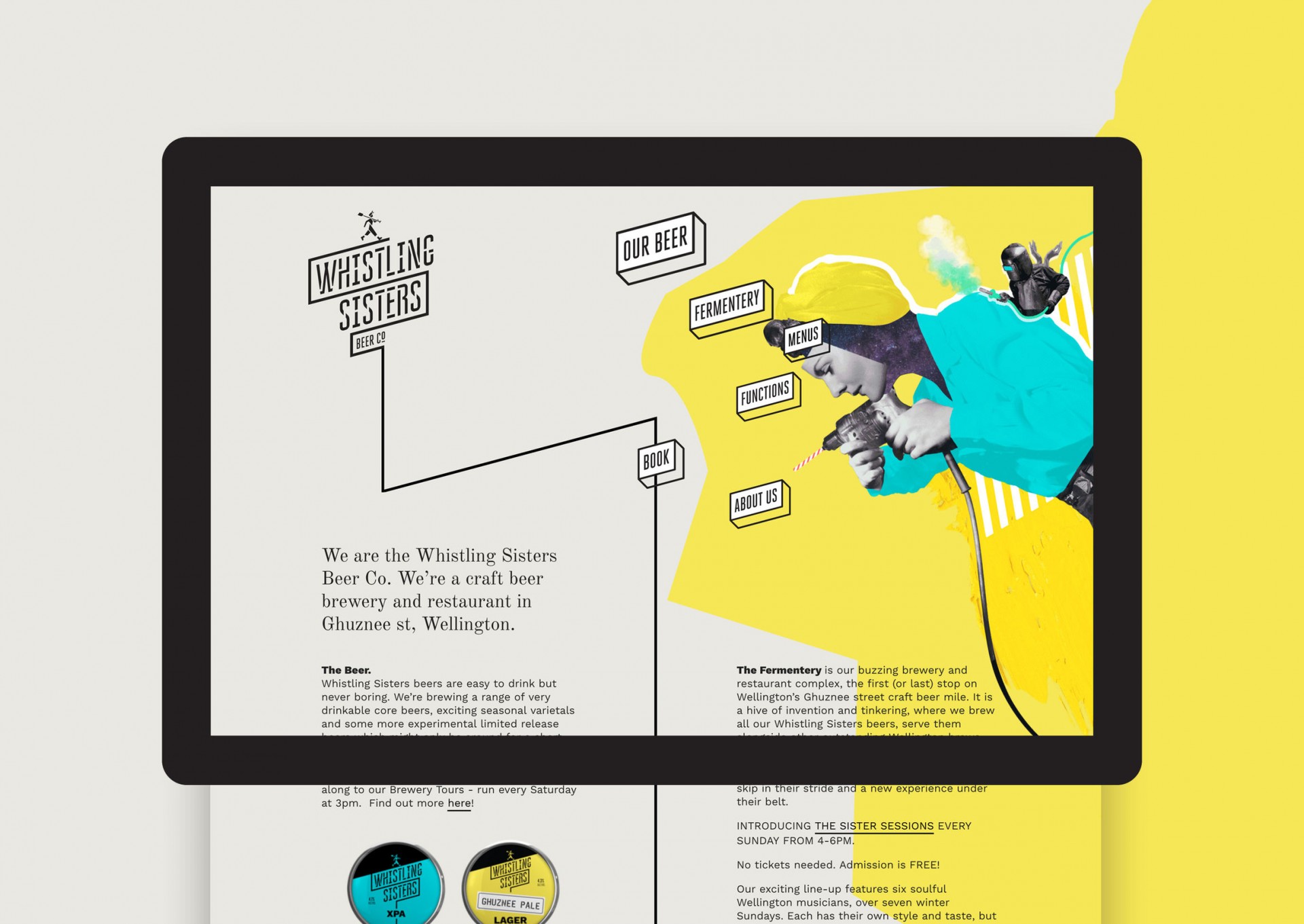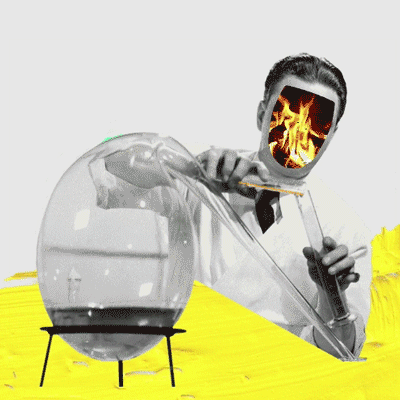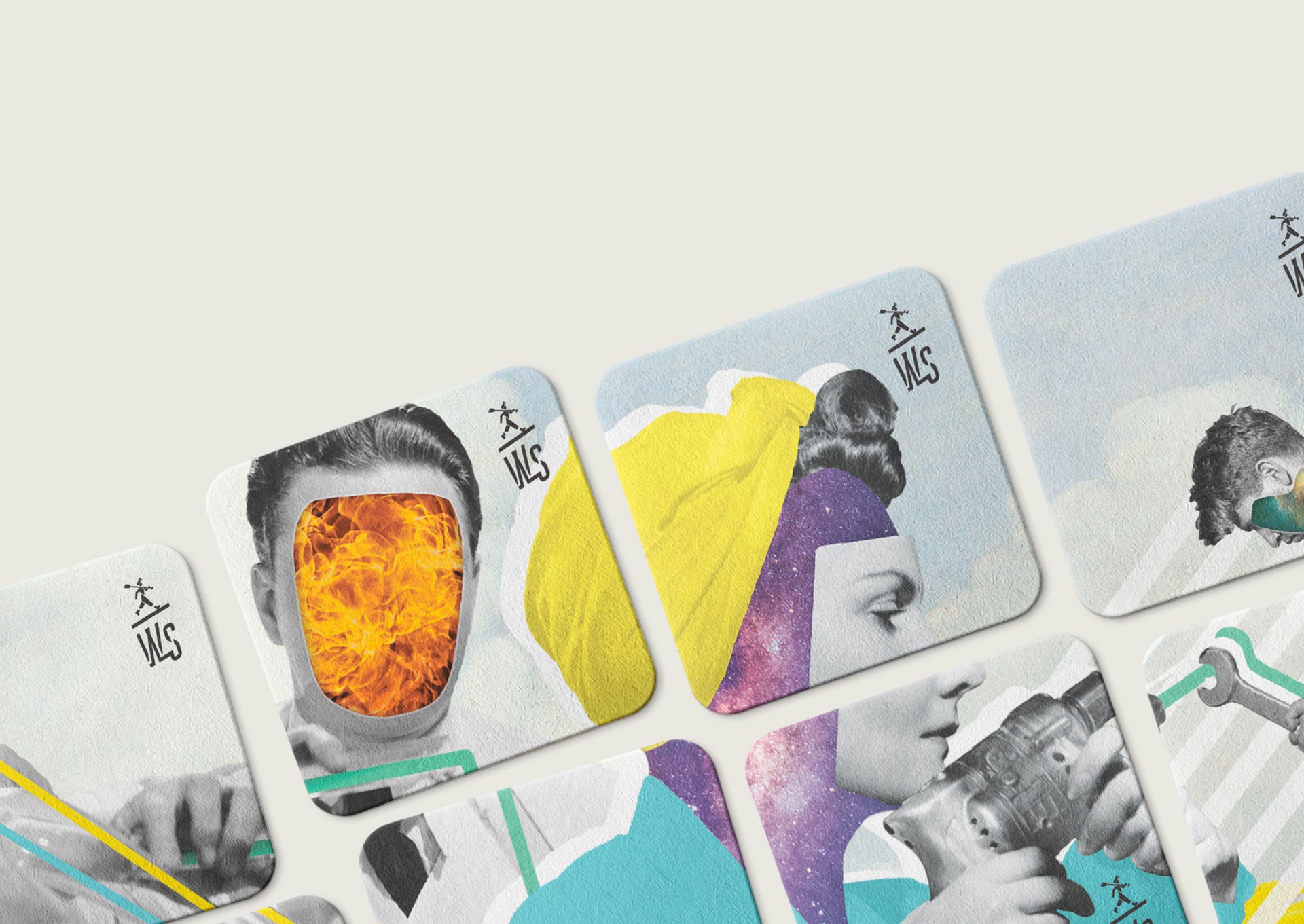 Simply, this place oozes cool, and everyone can see it…[Whistling Sisters] will welcome you into its world of great flavour and invention…
The difference
An eye-catching brand identity helped Whistling Sisters make an impact at launch, and carve out a space among Wellington's brewery players. Since then, they've seen strong engagement on social media, positive reviews from beer geeks and culinary critics, and a welcome reception at industry events like Beers at the Basin and Beervana.
They've hosted a series of successful music nights: the Sunday 'Sister Sessions,' become a known function venue, and partnered on local collaboration beers. They're now stocked at more than 20 bars around Wellington, and have gained attention from significant corporate investors, who describe it as a "classy experience," "clean, professional," and "beautiful." The brand was recognised as a finalist in the 2018 NZ Best Design Awards for small brand, and website, and our clients celebrated a win for 'Best Newcomer - Food & Beverage' at the 2018 Hospitality New Zealand Awards for Excellence.
As the business matures, we've partnered to ensure brand consistency, supporting Whistling Sisters as they grow and take on the competitive world of craft beer, with flair… and a whistle! In a category like this, design is perhaps the only way you can find your difference.